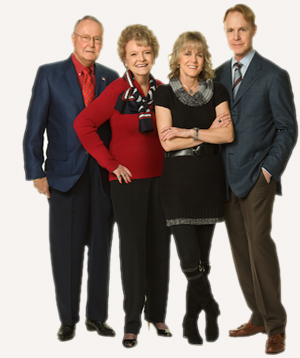 Welcome to Laguna Premier Realty, Inc. located in Laguna Woods (directly across from the Laguna Woods Community Center in Laguna Woods Village). <![if !supportEmptyParas]> <![endif]>
The company is a family affair. Leading the staff are Brent Heflin - Broker, Jennifer Heflin – Top Selling Agent and Phyllis and Van Heflin with over 35 years of Real Estate service to the community. <![if !supportEmptyParas]> <![endif]>
As unofficial ambassadors for Laguna Woods Village, the Heflin Real Estate Team are advocates who provide invaluable insight into their beloved community. The team has dedicated themselves to their profession, and possess exceptional knowledge of real estate and their niche market while remaining active in transactions throughout the region. <![if !supportEmptyParas]> <![endif]>
The real estate is a family tradition for the Heflins. Before earning their licenses, Van and Phyllis worked in retail and operated their own gift shop, "The Coral Tree" located just outside of what was once known as Leisure World. Their entrepreneurial nature and extensive business experience provided an ideal foundation to launch their careers in real estate. <![if !supportEmptyParas]> <![endif]>
Phyllis' family had been in the business for generations, and she followed suit. She set her sights on selling homes within the retirement community where both parents were living, but it wasn't an easy transition. "Before we arrived, there hadn't been a real estate agent selling houses in the community, who didn't also live there themselves," she explains. <![if !supportEmptyParas]> <![endif]>
Phyllis worked her way into the market and began by selling eight houses within her first month, she quickly proved her mettle and was accepted by her colleagues and the community at large. Another first for the real estate community: she began doing business as a team with her husband Van. "We were the first team to work in Leisure World," she recalls. "It wasn't a popular model at the time, but Van and I knew that together, we had an opportunity to provide our clients with a better level of service." <![if !supportEmptyParas]> <![endif]>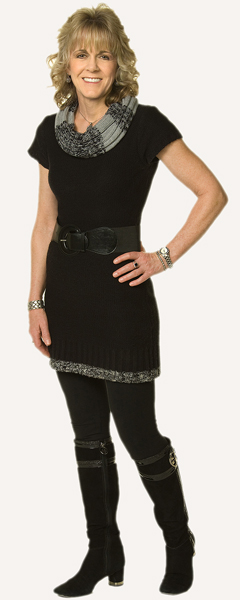 As the couple's business grew, they recruited their son, Brent to join them. Eventually he moved on to a brokerage in Long Beach, so the Heflins turned to the obvious answer for their next team member: their daughter Jennifer. <![if !supportEmptyParas]> <![endif]>
With a degree in Recreation Administration and experience as the director of a community center in the City of Monterey, Jennifer had ample experience working with the public in a service-oriented role. She earned her license and relocated to Orange County, and has never looked back. "l love what I'm doing!" she exclaims of her real estate career. "I have always enjoyed working with people, particularly active adults. This is a great opportunity to utilize my skills and to make a difference in the lives of others." At present she is active in the Kiwanis, with the Key Club, and also involved with the Senior Olympics.
In 2012, Brent rejoined the team, and in 2013 Laguna Premier Realty, Inc. was formed and additional agents and staff were brought onboard. <![if !supportEmptyParas]> <![endif]>
When asked to describe their business philosophy, Van, Phyllis, Brent and Jennifer agree upon a single premise: The Golden Rule. "We really believe that you must treat others - clients and colleagues alike - the way you want to be treated," Phyllis says. "When we make people happy, we're happy. We are in a service-oriented business, dealing with what is often the largest financial investment people will ever make. There is a lot of responsibility in what we do, and we thoroughly enjoy it." <![if !supportEmptyParas]> <![endif]>
As listing agents, the Heflin Team offers an insider's knowledge of the inventory and market movement within Laguna Woods Village and the neighboring regions. They provide objective feedback on how to prepare a house to market and sell, and offer a comprehensive advertising plan that includes targeted print publications and a significant web presence. Their collegial relationships are also a boon to their business; working well with their fellow agents has helped the team facilitate successful transactions time and again. <![if !supportEmptyParas]> <![endif]>
The commitment to their clients typically extends well beyond a single transaction. Known as community resources within Laguna Woods Village and the surrounding areas, the Heflins have also become friends to countless clients. Phyllis' knack for understanding peoples' needs has proven successful outside of real estate as well; she has been known to cultivate relationships within the community, some of which have resulted in happy marriages. (She's quick to point out, "We're not in the marriage business," despite her matchmaking success.) The team describes their commitment as "going the 8th mile." Says Phyllis, "We live where we work and our clients become our neighbors. <![if !supportEmptyParas]> <![endif]>
In addition to the respect and friendship of countless colleagues and clients, the Heflin Team has also earned professional accolades for their work. Consistent top producers, they have been ranked as top producers within Laguna Woods Village and within their brokerage. One of their most coveted: honors, notes Phyllis, was receiving the "Villager of the Month" title. "We were the first active business professionals to receive this award," she notes proudly. "This represents our dedication not only to our profession, but to our community." <![if !supportEmptyParas]> <![endif]>
Of course, it is not hard to understand why the Heflins are so passionate about Laguna Woods Village. The gated community features a wealth of amenities, including five pools and clubhouses, horse stables and trails, year 'round golfing, tennis and a great ambiance. "There's no place in California like Laguna Woods," Phyllis remarks. "It's country club living; a land of paradise," just minutes from famed Laguna Beach.